Coop runs CT train within Sweden

06/09/20
<Back to list
Source: https://jarnvagar.nu/project/coop-trailrar-gar-som-taget/
Coop runs CT train within Sweden

(translated in part with Translate.com)
It starts well and it still ends better.The Coop train from Malmö freight yard to the terminal in Bro departs eleven minutes early and goes to the finish 48 minutes before the scheduled time.When many passenger trains are cancelled, freight trains keep the timetables without problems.
AV ULF NYSTRÖM • Publicerad 6 september 2020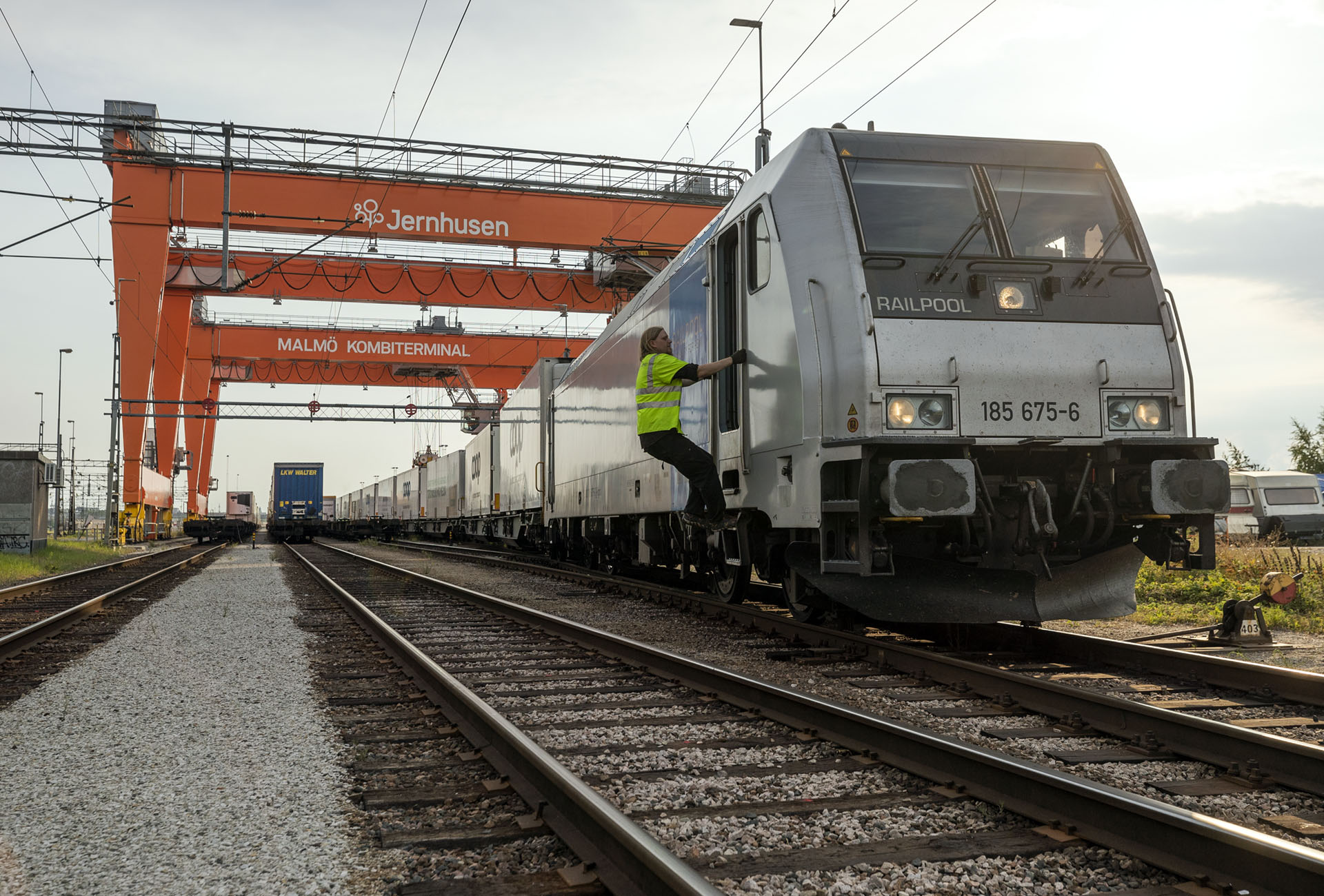 FOTO: KASPER DUDZIK
"Lokförare Anders Bjermquist klättrar upp på Traxxloket som ska dra tåg 44208 från Malmö kombiterminal sommarkvällen 20 augusti 2020.
.
"It rolled on pretty well," says Anders Bjermqvist, train driver on train 44208-44209."Very few pass-bys and few meetings on the single-track sections."  Train 44208-44209 is this late summer evening 599 meters long and weighs 1,651 tons.The 17 wagons are loaded with 34 truck trailers. The traction consists of 185,675, a Traxx locomotive from Bombardier.The train is operated by TX Logistik on behalf of Coop.TX Logistik rents locomotives and wagons and manages the train routing, while Baneservice handles the switching and terminal service in Bro.Coop owns or rents the trailers. TX Logistik has slowly but surely grown in recent years after a deep slump a few years ago when the company lost license and safety certificates in Sweden after the Swedish Transport Agency found serious deficiencies in the company's safety procedures and remarks that were not addressed in time.
FOTO: KASPER DUDZIK
Anders Bjermquist har backat ner loket till tåget och kopplat till. Mertz, som är entreprenör på kombiterminalen, lämnar över ett klargjort och avsynat tåg.




TXL back on track

In December 2017, TX Logistik regained its license and safety certificate and with new management is slowly building up the business.

In 2019, the company had net sales of SEK 110 million, reported an operating profit of SEK 2.9 million and had 23 employees.The company runs three train pairs between Malmö and Bro for Coop and a combi train between Trelleborg and Eskilstuna.

TX Logistik is a subsidiary of TX Logistik AG, which since 2017 has been wholly owned by Mercitalia, a subsidiary of the Italian state railways FS. At 18:19, eleven minutes early, the train rolls out of Malmö freight yard where the trailers were loaded during the afternoon.It's hot, on the verge of hot.

Traffic on the Southern Main Line is dense despite the fact that a number of long-distance trains are cancelled due to the reduced travel during the Corona pandemic.But it is a lot of trains and Öresund trains and we eventually meet a considerable amount of freight trains.

44208 rolls on all the way to Stehag where we get to go into a siding to drop past Öresundståg 11082 which is on its way from The Continent in the form of Copenhagen H to Karlskrona C.

 

FOTO: KASPER DUDZIK
I Alvesta lastas och lossas Cooptrailrar på och från de vagnar som det tidiga tåget 44203 lämnat på nedresan från Bro.
Top