Autocouplers to equip Swiss intermodal fleet

04/12/20
<Back to list
Source: https://www.railwaygazette.com/freight/autocouplers-to-equip-swiss-intermodal-fleet/57963.article
Autocouplers to equip Swiss intermodal fleet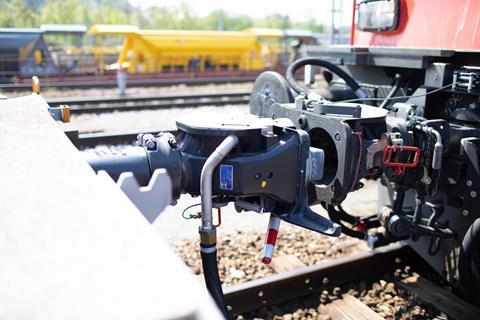 SWITZERLAND: Delivery of a second batch of Voith CargoFlex automatic couplers for SBB Cargo's fleet of domestic intermodal wagons has begun. Once the order is complete, all SBB Cargo's intermodal wagons will have been fitted with autocouplers, allowing expansion of services using autocoupler-fitted trains from June 2021 onwards.
The second order covers supply of 206 autocouplers and 16 hybrid couplers featuring a coupler that folds up to reveal a conventional screw coupling below. Following a series of trials as part of the 5L freight wagon development programme, an initial fleet of 100 wagons was fitted with Voith CargoFlex couplers in 2018-19 under a SFr1∙5m programme, paving the way for commercial operation from May 2019. Hybrid couplers were also fitted to 25 locomotives.
SBB Cargo plans to operate autocoupler-fitted intermodal services between 11 inland terminals ― the trains currently serve a network of six terminals. Terminals at Widnau in St Gallen canton and at Stabio close to the Italian border in Ticino were opened in 2019.
The next step will be to fit autocouplers to wagons used in SBB Cargo's Express network of overnight wagonload services. SBB Cargo envisages that autocouplers will enable the average 45 min train formation time to be halved.
The Voith CargoFlex is compatible with the UIC 530 directive and can be fitted with no changes to the wagon structure. It is designed for modular upgrading to permit automatic uncoupling if required. The design is one of four types being trialled as part of the EU-wide digital automatic coupler initiative.
Top