Stack-X for Combined Transport - Stacking solution for trailers

13/06/22
< Zurück
Source: Stack-X für den Kombinierten Verkehr: Stapellösung für Trailer - eurotransport
Stacking solution for trailers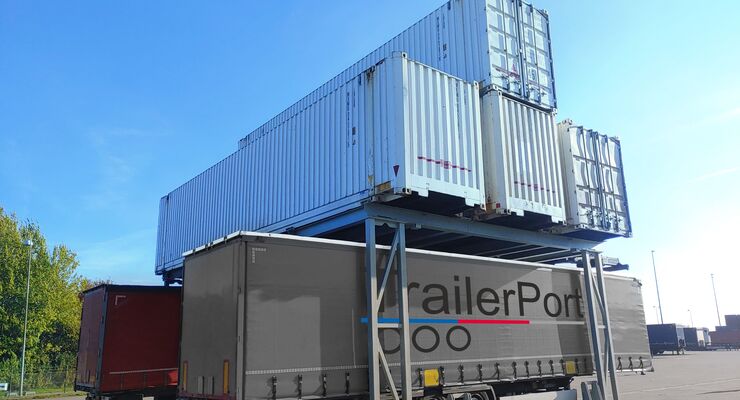 Meoer space in the terminal: Duisport, TX Logistik and SGKV present the Stack-X
solutionfor stacking trailers and containers.
For empty containers and trailers, the Port of Duisburg/Duisport, the railway company TX Logistik and the Studiengesellschaft für den Kombinierten Verkehr (SGKV) together with the company Wecon have developed a solution to solve the space problems in the intermodal terminals.
Metal frame allows transport and stacking
The Stack-X system comes in the form of a passable rectangular metal frame and enables the transport and stacking of trailers using a reachstacker or gantry crane. According to a joint communication from the partners, the trailers to be stacked can be craned or driven in with a tractor or a terminal tractor.
The first prototypes were therefore successfully tested in field tests under real conditions in order to ensure intelligent integration into the various operating processes.
Three particularly efficient stacking solutions
Three stacking solutions have proven to be particularly efficient:
Variant 1 provides for a pure stacking of up to three trailers on top of each other, which can be placed under the crane or on side surfaces.
Another variant allows mixed stacking as a block of trailers and containers (empty and full). With this solution, too, it can optionally be stacked under-crane or on side surfaces.
In the third variant, the Stack-X modules form a kind of garage. According to the communication, this requires a certain amount of manoeuvring and sufficient space, as well as coordination of the Terminal Operating System (TOS).
Author: Ilona Jüngst
Oben