Combined Transport: a successful business concept ? (R. Colle)

06/07/10
< Back to list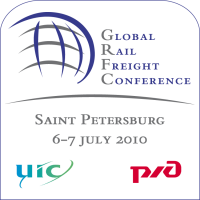 UIC and the Russian Railways (RZD) organised the 2nd Global Rail Freight Conference in Saint Petersbourg on the 6/7 July 2010.
The GRFC is a significant event in the international rail freight calendar and brought together top executives and decision makers, rail and logistics professionals, customers, influential politicians and regulators, and institutions from the entire world.
The UIRR was represented by Mr. Rudy Colle, Executive Chairman of the UIRR.
Related documents
Top