The intermodal, before its great opportunity

29/04/22
< Back to list
Source: The intermodal, before its great opportunity | Transport XXI (transportexxi.com)
The intermodal, before its great opportunity
Ralf-Charley Schultze, president of UIRR, recalls that combined transport must triple its share by 2050 to achieve the objectives of the European Union.
Intermodal transport is facing "a unique opportunity" as the main alternative "to make freight transport more sustainable". This is the main conclusion drawn at the III Intermodal Conference recently organized by the University of Zaragoza and Equimodal.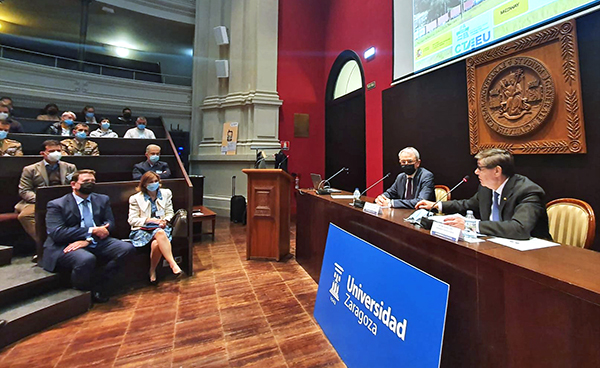 Image of the intermodal transport day organized by the University of Zaragoza and Equimodal.
Ralf-Charley Schultze, president of UIRR, said that "it is necessary to multiply by three the current share of combined transport in Europe in 2050 to achieve the EU's objective", which is to become "the first neutral continent in 2050, a joint and harmonized task of all European countries".
Under the direction of Emilio Larrodé, Professor of Transport at the University of Zaragoza, and María Domínguez, General Director of Equimodal, Bruno Silva (Medway), Pedro Ramos (Transfesa), Silvia Bericat (Grupo Sesé) and Sergio Moreno (Saica), focused on the current situation of rail freight transport in Spain.
Costs
According to the speakers, the railway suffers "a clear position of disadvantage, since it must assume 79 percent of the distribution of infrastructure costs, compared to the road that assumes only 45 percent." In addition, "until the supply chain is reorganized," rail presents the difficulty of "needing high volumes of goods and optimizing the round trip."
In this context, the rapporteurs called for temporary aid to compensate rail users, since this transport "should not only be a matter of cost, but it is necessary to consider the contribution to the reduction of CO2 emissions".
During the session, in addition to the opportunities that intermodal transport has ahead, the formulas with which it would be possible to take better advantage of the current structure to make it more competitive were shown. The participants in the day considered that more efficient changes in track gauge, access to the free energy market and the distribution of the last mile, among others, are necessary.
For his part, the general director of Evaluation and Planning of the railway network of the Ministry of Transport, Mobility and Urban Agenda, Casimiro Iglesias, presented in detail the initiative 'Mercancías 30', which includes an investment of more than 8,000 million euros in infrastructure, capacity management, terminals, railway highways, digitalization and aid in order to raise rail freight traffic from the current 4 percent quota to 10 percent percent by 2030.
Top