On track with carbon emission savings

14/06/23
< Back to list
Source: https://bulk-distributor.com/2023/06/on-track-with-carbon-emission-savings/
On track with carbon emission savings
As one of the leaders in chemical logistics, Bertschi Group has built a network set up for road, rail and waterway transportation throughout Europe.
Building on this strategy, Bertschi opened its 12,000m2 rail terminal at ValuePark Terneuzen several years ago.
In November last year, in a move towards further CO2 reduction, increased capacity and unique service offerings, the expansion project to double the terminal's size to 22,000m2, fitting 1,000 TEUs and 25,000 tons, was completed.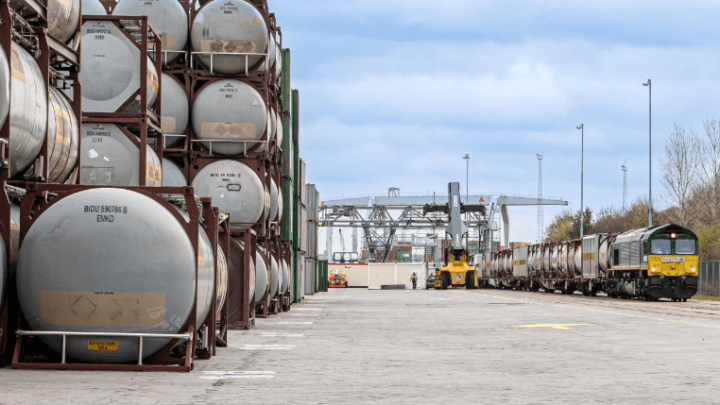 Intermodal solutions towards CO2 reduction
Five times a week, a train arrives from Antwerp to be loaded at the Bertschi terminal.
At ValuePark, Bertschi tank containers fill up the trains, upon which they return to Antwerp, where they are transferred and bound for destinations all over Europe.
"75% of all our containers and tank containers are transported via rail, 15% per barge/short-sea and 10% by tanker," said Jan Arnet, CEO Bertschi Group.
The expansion of Bertschi's facilities adds not only space for storage, but also an extension of the rail track by 225m, allowing for longer trains to arrive at the facility. Through intermodal logistics chains, Bertschi saves around 70% of CO2 emissions when compared with road transport.
In addition to this, all the on-site terminal machines at Bertschi Terneuzen are fueled by the renewable diesel alternative hydrogenated vegetable oil (HVO) or biodiesel.
Bertschi's switch to biofuels for these machines saves 90% of emissions per liter and is thus equivalent to a CO2 savings of several hundred tons per year.
Increased capacity to meet customer demand
Customer demand was the driving force for the expansion.
"In the past few years, even during the pandemic, we noticed a growing demand for storage facilities for containers at our Terneuzen terminal," explained Barry Mol, managing director of Bertschi Netherlands.
Reaching maximum capacity at peak moments made it clear that an expansion was necessary.
"Larger storage facilities and longer trains are necessary to support our ambition to become what we call a multi-colour terminal," Mol continued. Since Bertschi's standard tank containers weigh a significant amount, additional room is available for containers with lighter cargo to fill train wagons.
"The more customers that make use of our train to Antwerp, the more price-efficient it will be compared with trucking. Less truck mileage is better for the environment too," Mol concludes.
Unique service offerings
Bertschi boasts a unique preloading service at their storage facilities, where companies can store their containerised products on the terminal pending customer.
This means that chemical companies will always have products on stock at the Bertschi terminal, saving them their own storage space, production planning issues and supply chain uncertainty.
Another special service at the terminal is the use of on-site logistics with yard tankers, which reduces the waiting time for truck drivers to 20 minutes. "Although it is our ambition to reduce the amount of road transport, we still receive trucks at our terminal and we have arranged a situation in which the waiting time for a truck driver is brought back to a minimum," said Mol. These yard trucking facilities have also been expanded with the enlargement of the terminal.
Strategically close to valued customers
North Sea port is a multimodal port with an emphasis on inland shipping and access to the hinterland. This multimodality coupled with valued customer proximity makes it an ideal location for Bertschi.
"We situated this Bertschi terminal specifically at the ValuePark Terneuzen as it is ideally located for the chemical production and distribution of Dow and other valued customers," Arnet explained.
The ValuePark Terneuzen is a joint venture of Dow Benelux and North Sea Port and is centrally located between the main ports of Rotterdam and Antwerp, where Bertschi also has locations.
"Dow Terneuzen is Dow's second largest manufacturing location in the world. Here, we are the central point for supporting our services in Europe, the Middle East, Africa and India," said Peter Van Egerschot, senior logistics director Dow Europe. The Value Park, which is located on the west side of Dow Terneuzen, has direct connections to the railroad, the road network and international waterways.
"Before this expansion, Dow already benefited from Bertschi's rail terminal at the ValuePark for over a decade. We look forward to not only increase intermodal services, but also to accelerate Supply Chain efficiency at our site through innovative and sustainable concepts," continued Van Egerschot.
Bertschi's relationship with Dow chemicals is a long standing one based on mutual trust and shared supply chain goals. "We take pride in the collaboration with this most valued customer and look forward to our expanded service offering to them," concluded Arnet.
Top