German - Czech important rail freight corridor is back

23/02/23
< Back to list
Source:  https://railmarket.com/news/infrastructure/2993-german-czech-important-rail-freight-corridor-is-back
German - Czech important rail freight corridor is back
Karel Novak
, Published on 23/02/2023
@sprava zeleznic on twitter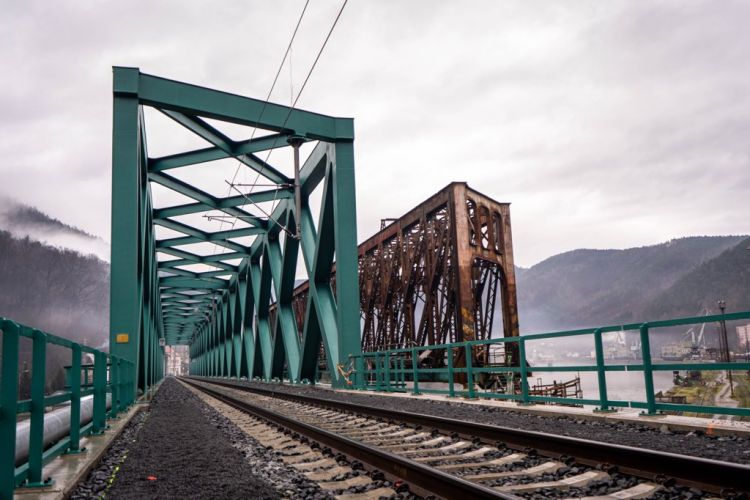 The first freight trains have started using the Elbe Bridge, the reconstructed section of line between Děčín East and Děčín-Prostřední Žleb stations, which plays an important role in freight transport between the Czech Republic and Germany.
---
Among the biggest challenges for the contractors were the replacement of the Elbe bridge's more than 100-year-old steel structure and the complete renovation of the Děčín tunnel.
Reconstruction of the 1.4km single-track section began in August last year. The contractors carried out a complete renewal of the track, catenary, signalling and communication equipment. Around 700 metres of noise barriers have been built to reduce noise pollution in the surrounding area. The line speed will be increased from 30 to 50 km/h when the work is completed. From a freight perspective, it is important to allow the passage of larger and heavier trains.
The largest Czech rail freight operator, ČD Cargo, also appreciates this: "The transport connection with Germany is one of our priorities, so we welcome the commissioning of this important construction. We transport a wide range of goods via the Děčín border crossing, including containers, agricultural products and cars. The transport of fuel to the Czech Republic is also important from a strategic point of view," says Michal Roh, Director of Sales Support at ČD Cargo.
The most visible part of the project was the reconstruction of the 265 metre long bridge over the River Elbe. This consisted of replacing the 1916 steel superstructure with a similar one. An important step towards commissioning was a load test in November with fully loaded hopper wagons and lorries. Workers are now dismantling the original bridge structure, which will continue into the spring.
Recently, construction workers have been concentrating on the Děčín tunnel, which dates back to 1874 and is 395 metres long. The reason for this was the discovery of unforeseen changes in its subsoil. The floor of the tunnel had to be excavated and changes made to allow water to drain away.
The contractor is the Prostřední Žleb Bridge Company. Its manager is STRABAG Rail, and its partners are DT Mostárna and STRABAG AG.
The total investment cost of the project is CZK 1,343,895,546. The project is co-financed by the European Union from the Connecting Europe Facility (CEF). The total amount of eligible project costs is CZK 1,207,005,922. The EU grant rate is 83.81% of the eligible costs, i.e. the maximum grant amount is CZK 1,011,591,663. National support will be provided by the State Fund for Transport Infrastructure.
Top