40 Years Combined Transport Road-Rail in Europe

22/10/10
<Back to list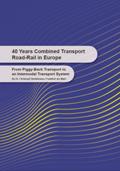 The development of combined transport road-rail in Europe can be regarded as very impressive. In the decades that have been passed until today, only some minor delays have interrupted the continuous increase of combined transport. Only the global economic crisis in 2008/2009 - that had followed the financial crisis – brought an intermediate downwards  development that has meanwhile turned again into growth. Since 1970 the transport volume of combined transport has increased by the factor 20.
History of combined transport road-rail is narrowly connected to the development of UIRR International Union of combined Road-Rail transport companies. The 40 years anniversary of UIRR appeared as an excellent chance to produce this book as a document underlining the contribution of this intelligent transport technique to sustainable mobility and drawing up the conditions of its further development.
Dr. Christoph Seidelmann looks back towards an excellent career that has been dedicated almost entirely to combined transport. So, he was the predestined author for such a book. We are glad that he has accepted this task. The result of the work is this book which is easy to read with all its illustrations.
We hope that you, as well, enjoy your time when reading this interesting study.
A free PAPER version can be also sent by mail.
For any order request (number of copies + languages) please contact Mrs. Biçici (pbicici(@)uirr.com)
Related documents
Top