CO2-free transport of goods Study: Combined transport with e-trucks

19/05/22
< Zurück
Source: CO2-free transport: Combined transport with e-trucks - eurotransport
CO2-free transport of goods
Study: Combined transport with e-trucks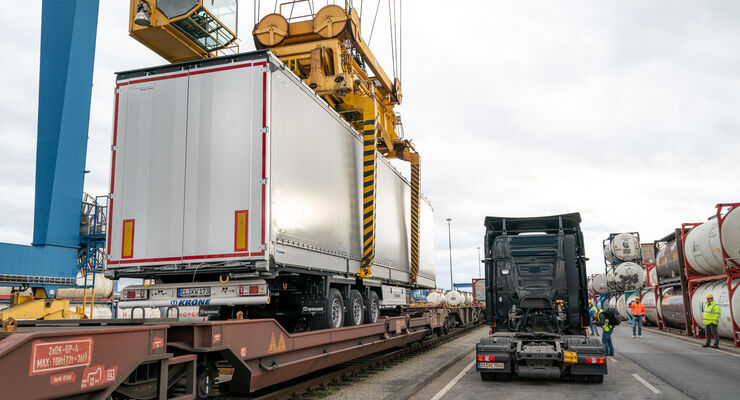 Goods can be transported co2-free from door to door using technologies already available today. A new study shows how this works.
Transport is a major CO2 offender, accounting for almost 30 percent of the EU's annual greenhouse gas emissions. Politicians in Berlin and Brussels are therefore focusing on a transport turnaround, especially for freight transport. The electrically powered railway is to play an important role in this. Combined door-to-door transport, in which the main course is carried out by rail and the last mile by truck on the road, already causes 60 to 90 percent less emissions today, the International Association for Combined Rail-Road Transport (UIRR) emphasizes.
Rail combined with e-trucks

But there is obviously more to it. A study funded by UIRR also involved Volvo Trucks, Luxembourg's CFL Bettembourg terminal, Innovativ Special Transport and handling expert Kalmar Global. In principle, the railway has an advantage over diesel-powered trucks in terms of energy efficiency. But if he is on the short distances of the last mile battery-electric, the two would make a perfect pair.
Electrified shunting operation

"With today's battery technology, electric trucks are suitable for combined transport, as the typical road distance is short - usually less than 70 kilometers," the study says. Transhipment equipment for intermodal terminals could also be replaced by electrical alternatives available on the market. Although there are still no battery-electric shunting locomotives ready for the market, the necessary technologies exist and the Port of Rotterdam is working on the concrete implementation. "Therefore, the electrification of shunting operations can be seen as a matter of time."
Improving energy efficiency

It can be assumed that battery prices will fall in the future, as well as acquisition costs for vehicles and equipment due to the start of series production. With the extensive electrification of the main lines, rail freight transport is locally emission-free, and the railways have also committed themselves to using renewable energies. In order to make efficient use of the limited supply of green electricity, further measures to improve energy efficiency are currently being implemented on the rail side. These included longer 740-metre trains or the digital automatic coupling.
Nationwide network necessary

The conclusion: If the modes of transport rail and road are connected intermodally, a shift towards energy-efficient freight transport and a rapid reduction of greenhouse gas emissions is possible. Carbon-free combined transport is "already feasible from both a technical and operational point of view". In order to fully exploit its potential for achieving the EU's climate targets, however, the share of CT in total freight transport must be increased, and it is also necessary to develop a nationwide network of completely carbon-free transport routes from the few options currently on the market.
Author: Regina Weinrich
Oben