NEAT 2017 - How to transfer more goods onto rail?

08/11/10
< Back to list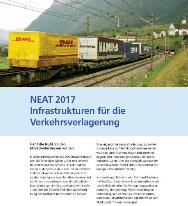 Companies and associations active in the freight transport request immediate measures for being able to reach the desired expectation of freight modal shift when the Gothard-Basiistunnel will be opened in 2017.
Key elements are infrastructure improvements such as the 4m corridor, terminals in the South and the further development of railway tracks.
Furthermore it is also not acceptable that freight transport is put at a disavantage compared to passenger traffic: this significantly reduces the overall competitevness of rail freight transport in comparison to road transportation.
Related documents
| | |
| --- | --- |
| NEAT 2017 - Infrasturer for modal shift | DE FR IT |
Top