Car parts travel successfully by train

03/07/22
< Retour à la liste
Source: https://www.eurotransport.de/artikel/schaeffler-testet-kombinierten-verkehr-autoteile-reisen-erfolgreich-mit-der-bahn-11201841.html
Schaeffler tests combined transport

Car parts travel successfully by train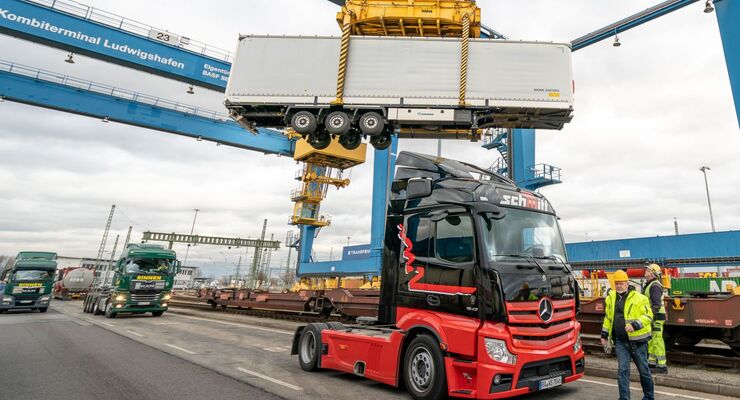 The automotive supplier Schaeffler is testing intermodal transport with a pilot
service. Logistik Schmitt, Kombiverkehr and Krone put together a joint logistics
package. The trade journal trans aktuell coordinates and accompanies the
project.
There are 845 kilometers between Kühl and Szombathely. The automotive division of the Schaeffler Group sends 12 to 14 trucks every day from its location in Baden to supply its plant in western Hungary and the logistics center in nearby Vép with transmission parts and drive components - also for everything to do with electromobility. The replenishment does not falter at the weekend either, when there are usually six articulated lorries on the road. Almost half of the trucks are rotary, so they also have a return load.
The production area of ​​the Szombathely II plant, which is located three kilometers from the main plant opened in 1996, covers 15,000 square meters. The new production facility is being launched as a competence center for e-mobility within the Schaeffler network - and as the first plant to work in a CO2-neutral manner. The focus is on drive components and solutions for all aspects of battery-electric driving. The site plans to initially employ 150 people who will launch 80,000 products a year from 2023.
The Schaeffler Group wants to be CO2-neutral by 2040, with production ten years earlier. Logistics would like to make its contribution and set the course early on towards zero-emission or low-emission transport. The new Hungarian plant, which is already CO2-neutral and has a green orientation due to its focus on e-mobility, should make the start - according to the considerations of Peter Egner, Head of Supply Chain Management and Automotive Logistics at Schaeffler -Group.
Egner is responsible for 53 plants and 29 warehouses with 3,600 logistics employees. Logistics keeps 18,400 items in stock and obtains its goods from more than 3,000 suppliers worldwide. "The steel requirement in Bühl alone accounts for 30 to 35 trucks a day," says the logistics manager. Schaeffler receives up to 900 tons of steel in Bühl every day. The need for transport is therefore immense.
Relation to Hungary currently only served by road
There are 632 regular connections between the plants. One of them is the one from Bühl to Szombathely, served by the Hungarian freight forwarder Domino Trans. So far, it has only been using diesel trucks, like almost all long-distance road transport. The LNG truck is gaining momentum, but is slowed down a bit in view of the unprecedented price rally. The hydrogen truck is still a long way off. Electrically driven tractors already exist, but not yet with the required ranges. So what can be done to handle transports on this route in a more climate-friendly way as a pilot route? To this end, Peter Egner sought an interview with the trans aktuell editors. They developed an idea and brought together some players from the industry.
A few weeks later, 17 men sit it together at Schaeffler in Bühl to get the more climate-friendly transport solution off the ground. Teams from Schaeffler, Logistik Schmitt from Bietigheim, the intermodal specialist Kombiverkehr from Frankfurt, the trailer manufacturer Krone from Werlte and ETM Verlag from Stuttgart, which coordinated the whole thing and accompanied it with multimedia in words and (moving) images, are gathered in the meeting room. The large number of actors shows that in the casting for the cleanest transport solution from Bühl to Szombathely, not one mode of transport prevailed. Rather, a cleverly combined mix of modes of transport wins the race. The basic idea behind it is to shift the main leg from road to rail.
Main run by rail: avoid 80 percent of emissions
80 percent of the CO2 emissions from transport can be saved in this way. Pre-carriage and on-carriage will continue to take place on the road, initially with a diesel engine, but according to those responsible at Logistik Schmitt it is conceivable that this part could also be produced locally CO2-free at a later stage of development using an electric truck or synthetically produced diesel . The company has taken the first step towards e-mobility and has been using a near-series Mercedes-Benz eActros for the Daimler plants in Rastatt and Gaggenau since last autumn. An eActros prototype had previously been part of the fleet since 2019.
The logistics service provider uses its own trucks and 112 trailers, and specializes in automobile and contract logistics. Schmitt handles the entire range of services for a vehicle manufacturer: customs clearance, picking, sequencing and pre-assembly. This know-how is now supplemented by experience in combined transport (CT). By participating in the pilot transport for Schaeffler, Logistik Schmitt hoped to gain insights into a possible entry into a new business field, KV. "This not only makes strategic sense for us, we are also responding to a political demand by relocating traffic," explains Managing Director Rainer Schmitt. His managing director colleague Volker Klemm adds: "In the public debate, logistics is often portrayed as a polluter - we would like to counteract that."
Logistik Schmitt examines entry into combined transport
According to their own calculations, Logistik Schmitt would need 12 to 15 cranable trailers in the first step in order to shift only two to three of the 12 to 14 vehicles daily for Schaeffler on the Bühl-Szombathely connection from road to rail. Provided that the pilot later becomes a regular transport. It is based on a calculated period of four to five days for a round trip. The forwarding company does not shy away from the potential investment – ​​"No business today is complete without investment," says Klemm.
The additional costs for a KV-capable trailer at the vehicle manufacturer Krone are approximately 2,500 euros. Its features are modified axles with split air bags, crane pockets and an aramid roof. Krone provided Logistik Schmitt with the semi-trailer for the pilot at Schaeffler. "We are seeing a significant increase in demand for equipment that can be used by rail," explains Krone regional sales manager Klaus Foser. Around 15 percent of the curtainsiders sold by Krone can now be craned. Almost all of the changing systems are rail-capable anyway – the company is registering a real boom in this area due to the flourishing e-commerce. 170Kombiverkehr maintains train departures to 25 countries in its network. Thanks to many terminals that act as gateways, 15,000 daily connections within Europe are possible. The company chose one route from this for the pilot transport for Logistik Schmitt and its client Schaeffler: a connection from Ludwigshafen to Vienna via Wels. A train runs three times a week from Ludwigshafen to Wels. There, the trailers, swap bodies and containers can transfer to the train to Vienna. In the case of Schaeffler, Marijo Pesic, Head of East and South-Eastern Europe Transport at Kombiverkehr, recommended onward carriage from the Austrian side to Szombathely. The operator also offers transport to and from Budapest. However, the pre-carriage and on-carriage from the Hungarian capital would be "against the freight".
Kombiverkehr a sustainable alternative to the road
128 kilometers is the onward carriage from the Vienna container terminal to Szombathely. For this Kombiverkehr Logistik Schmitt mediated the company Krogger Transport & Logistik from Vienna. "Rail is the ideal means of transport for transporting shipments with reduced CO2 emissions and even CO2-neutral on some routes, and to help industry achieve its climate targets," explains Peter Dannewitz, Kombiverkehr Sales Manager. His expectation of the pilot transport: "That we will be able to convince with our performance and show a particularly sustainable alternative to the road." Dannewitz took the opportunity to emphasize the advantages of CT apart from the better environmental balance: Forwarders are allowed to transport four tons more in this country (in Hungary this only applies to 40ft containers), Didier Dischkewitz has been driving a truck for 38 years. He has never transported a trailer in a CT. "It's something special," he says. Dischkewitz controls the articulated lorry with the KV trailer of the pilot transport. In a Mercedes Actros, he makes his way to the Ludwigshafen Combi Terminal (KTL). At 130 kilometers, the journey on the A 5 and A 6 in the pre-carriage is almost as long as the post-carriage. At the same time, a DAF XF travels with him. It is one of the 12 to 14 vehicles that Domino Trans uses for Schaeffler every day – exclusively on the road. On board is Polgar Dibor. The Hungarian has only been a driver for a year. The hotel business was his profession. But then Corona came - and the guests stayed away. Rescheduling was the order of the day. 3 p.m. to 4 p.m.: This is the time window in which the trailer should arrive at the KTL in Ludwigshafen so that it can still be loaded. As a rule, there is no time window, and customers are flexible in terms of delivery, as long as this is done in good time before loading closes. On the relevant loading day, however, there were a few challenges, as storm Ylenia had thrown rail freight traffic upside down, which also had an impact on the KTL - hence the time window.
KTL Ludwigshafen: scheduled processes despite the storm
The terminal archived 80 to 90 percent of the usual throughput on this stormy Friday, according to KTL Managing Director Harald Schlegel. Normally, up to 25 incoming and outgoing trains are handled per day, making the terminal one of the largest inland transhipment facilities in Europe. "This shows that even stormy days do not have to shut down a terminal." The Schaeffler loading unit arrived on time and could be loaded according to plan. The Kombiverkehr train to Wels left exactly according to the timetable.
30 to 40 lettuce boxes with a total weight of 21 to 22 tons are on board the two trailers, which are moved by Logistik Schmitt in intermodal transport and by Domino Trans in road transport. The goods come directly from production. These are freshly stamped clutch covers. The goods are already expected in Szombathely, although Schaeffler Automotive Head of Logistics Peter Egner admits that he has planned a little buffer for the intermodal transport – surprises can always occur at a premiere and jeopardize the transit times. Intermodal or road transport: Which of the two modes of transport won the race?
3 Aspects play a role – at least. It depends on whether it is about the running time, the cost consideration or whether environmental aspects also play a role. When it comes to the last point, intermodal transport is clearly ahead. "We'll probably never get away from trucks entirely," says Karsten Erfmann, Head of Supply Chain Management at Schaeffler's Bühl site. Peter Egner adds: "The train is an excellent supplement for us." He is aware that the CT connection cannot cost the same as road transport to the cent. "On the other hand, I can't pay much more for the track either." For Egner, the transit time is just one of the factors in the assessment. In addition to price, runtime and environmental balance, he also mentions others: "Security, availability and stability are crucial for us. He is now all the more looking forward to an in-depth and critical analysis of the test run. From this he wants to draw conclusions for the next plans – which should lead Schaeffler step by step to the climate target.
Road or intermodal transport - a comparison
Duration
Street
Schaeffler Bühl departure: February 18, 3:30 p.m

Arrival Schaeffler Szombathely or logistics center Vép: February 19, 1.30 p.m

Running time: 22 hours, transport by Hungarian forwarding company Domino Trans with one driver
Intermodal
Schaeffler Bühl departure: February 18, 3:30 p.m

Arrival Schaeffler Szombathely or logistics center Vép: February 21, 12:38 p.m

Running time: approx. 69 hours
Advantage road: approx. 47 hours
The intermodal stages
Road pre-carriage from Bühl to Ludwigshafen by Logistik Schmitt

Change of trailer at KTL Ludwigshafen to Kombiverkehr train to Wels, departure: February 18, 9:20 p.m

Provision in the Wels CTT terminal: February 19, 8:11 a.m

Change to Kombiverkehr train to Vienna/Budapest, departure in Wels: February 19, 9:00 p.m

Arrival at the Wien Süd CTT terminal: February 20, 11:50 p.m

Deployment in Vienna: February 21, 06:00

Takeover by Spedition Krogger: February 21, 09:00 a.m

Arrival Schaeffler Szombathely or logistics center Vép: February 21, 12:38 p.m

In a round trip with the same routing back, but two days instead of three days (February 21 afternoon departure and February 23 evening arrival in Bühl)
CO2 emissions
Street
Intermodal
0.7 tons of CO2, of which 0.45 in the pre- and post-carriage and 0.23 in the main carriage.

In addition, there are 0.02 tons for three crane operations.

A completely CO2-neutral main run would be possible if green electricity were used.
Intermodal advantage: 0.8 tons of CO2
Calculation with a load of 25 tons, road transport in the DAF XF or intermodal in the Mercedes-Benz Actros (Euro 6)
Costs

Street
Freight/transport price for a full load from Bühl to Szombathely = 100 percent
Intermodal
Freight for intermodal transport including pre-carriage and on-carriage by road, main carriage by rail and three crane operations = 130 percent

Road advantage: 30 percent
Calculation with the pure transport fee/freight. Vehicle, driver and other cost factors were not considered.
Source: Documentation by trans aktuell, Kombiverkehr and Logistik Schmitt, cost calculation according to the Schaeffler Group
Author: Matthew Rathmann
Haut